DeWitt Calibration Services, Inc. was formed to give the greater southern region of Texas a calibration source that specializes in true customer service. I have always made it a priority to treat every customers instruments as if they were my own. Each instrument is thoroughly cleaned, polished, painted or whatever is required to make that item as close to new condition as possible without extra charges as other companies do. After each tool or instrument is evaluated and the condition of the item is documented, the item is then restored to as close to new condition as possible. The only time any additional charges are added is when the item actually requires a repair. If the instrument is functionally operating correctly but requires an internal adjustment to bring the item back into tolerance, there is no charge for that disassembly. A repair charge is added ONLY when the item is not functioning properly and requires parts or it requires a process such as lapping to rectify an out of tolerance condition. Look below for all of the benefits of using DeWitt Calibration Services, Inc.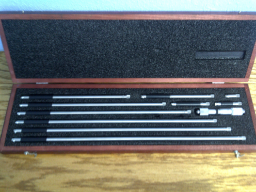 Why do you need DeWitt Calibration Services, Inc.?
Save money, we are less expensive than the competition. I offer free pick up and delivery as long as you are within 100 miles.... However I do ask that if you use this service, please try to have enough work to necessitate the trip where I don't lose money Fast and efficient turn around times. All certificates of calibration include actual data at no additional charges. My facility is located a short walking distance from my personal residence, therefore if you require service in an emergency, I can easily accommodate the request. I have over 25 years experience in calibration and repair of precision measuring tools and thread measuring gages.